10 February: Reopening of the Thermal river.
31 March: Reopening of the Mayens
30 April: Reopening of the Spa
At the thermal park, relax in our heated swimming pools, a semi-Olympic pool, a thermal river, a Spa area, the Mayens du Bien-Etre with sauna and hammam. In summer, a pentaglide and a paddling pool for children will allow them to have fun!
Open every day: 8:00 am to 9:00 pm
Reopening program
20 December 22: Pools and Sauna
10 February 23: Thermal River
31 March 23: the Mayens
30 April 23: the Spa
At the heart of the Valais vineyards, the Bains de Saillon thermal zone consists of:
3 thermal pools at 32°C - 34°C
1 semi-Olympic pool at 28°C
the Thermal River (reopening 10 February 23)
the Mayens of Well-being (reopening 31 March 23)
the Spa (reopening 30 April 23)
fitness and class room
children's zone with a giant toboggan, water slide and paddling pool (in summer)
Adult, Senior and Student
Entries
1 adult entry (from 25 years) see the reopening program
Reopening price : 22.-
1 entries Senior1,2/Student1,2
Reopening price : 19.-
1 afterwork entry (from 6 pm)
Reopening price : 15.-
Multi-entry Pass3
10 adult entries
260.-
10 entries Senior1,2/Student1,2
230.-
Subscriptions
1 month
205.-
3 months
395.-
6 months
595.-
12 months
795.-
Children (under 16 years)
Entries
1 entry (under 4 years)
Free
1 entry (under 16 years)
Reopening price : 10.-
Multi-entry Pass3
10 entries
140.-
Subscriptions
1 month
90.-
3 monts
190.-
6 months
290.-
12 months
390.-
Groups (from 15 people)
Must be reserved at least 2h in advance
1 adult entry (from 16 years)
23.-
1 child entry (under 16 years)
13.-
1Prices for Senior/Student only on presentation of a valid legitimation card.
2 Student: under 25 years. Senior: from the age of 64 for women and from the age of 65 for men
3Tickets for 10 admissions may be used by the bearer (except for Senior/Student) and are valid for 12 months. They will not be replaced in the event of loss and cannot be extended.
All packages entitle the bearer to one admission per day.
Bathing time is unlimited!
Reopening on 10 February 2023.
In a green space enjoying unobstructed views of the Alps, the Thermal River or "Rivière Thermale" meanders for about 120 metres at a temperature between 32° and 34°C. You can enjoy the various leisure areas distributed along the entire route.
1 water grotto with whirlpool baths
2 pergolas with massage benches
1 pressure jets and massage ducts
2 Kneipp paths
1 terrace, Mayens of well-being
Due to renovation work, the Mayens will open at the end of the first quarter of 2023. A temporary outdoor sauna will be available to our guests.
The sauna village and Turkish baths built inside a real Valais mountain house allow you to enjoy some well-deserved relaxation in a unique environment.
The village consists of:
1 sauna
1 bio-sauna
1 Turkish bath
1 room with a fireplace
1 relaxation area with a panoramic view of the Alps
The Mayens of Well-Being invites you to relax in a sociable setting!
During the summer season, children can enjoy a toboggan, waterslide and paddling pool.
Safe bathing for babies: 1 Minute per month of age!
Be careful! Your child's (0-1 year) lungs are in development. We recommend a bath of 1 minute per month of age. After a break the bathing can be repeated.
The Hotel
Our hotel complex has 148 rooms that will offer you a breathtaking view of the Valaisan Alps. All our terraces are located on the south side of the hotel, so you will benefit from optimal sunshine.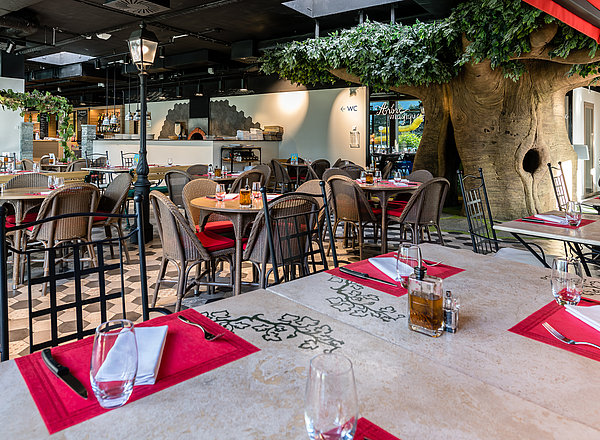 Restaurants
Our restaurants with themed areas and terraces are there to satisfy all your expectations. Come and discover our delicious dishes!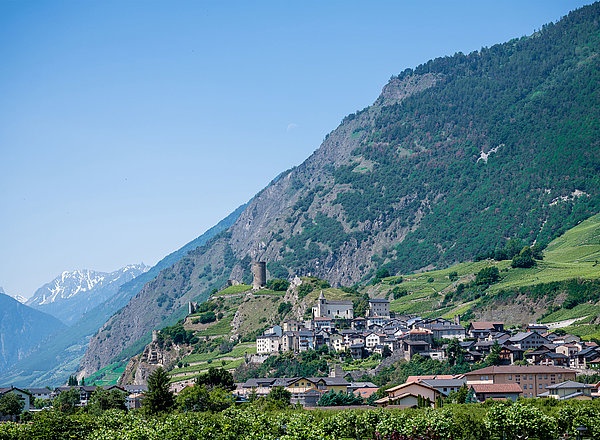 The Region
Les Bains de Saillon extends over the Rhone plain near the charming medieval village of Saillon, decreed the most beautiful village in French-speaking Switzerland in 2013.